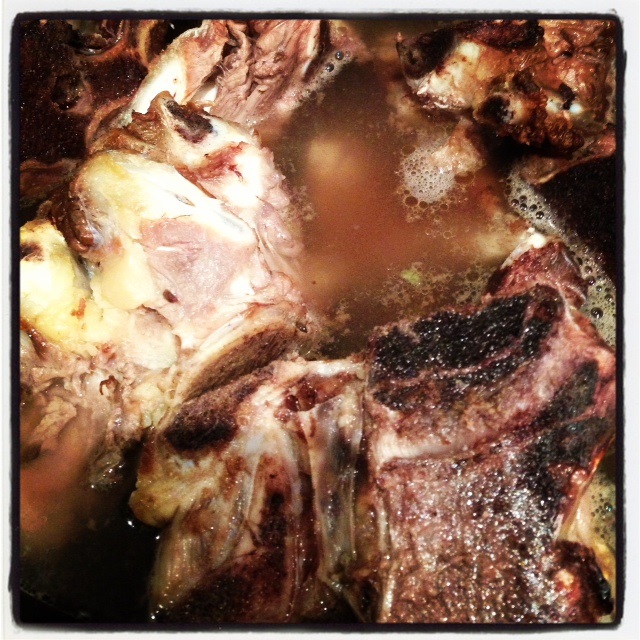 Simple Bone Broth for Dogs (and Cats)
Bone broth has excellent health benefits for dogs and cats (and us!), and best of all it's very easy to make.
The finished bone broth will keep for up to 4 days in the fridge or can be portioned out into ice cube trays and frozen.
Dogs love frozen bone broth cubes!
You can feed this bone broth for dogs and cats combined with their regular meal, or even use it to rehydrate an air-dried or freeze-dried food.
All you need is a slow cooker. My personal recommendation is this one from Black & Decker which has served me well for many months – fantastic for making bone broth for the dogs and stew for the family!
This is a really simple bone broth recipe for dogs and cats, but feel free to ad lib. There's all manner of health ingredients you can add to the basic recipe!
Ingredients
2

kg

raw meaty bones

ideally joint bones with cartilage (such as poultry wings and legs, beef marrow bones, chuck bones)

2

carrots

1

stick of celery

1

sweet potato

1

bunch parsley

2

tbsp

raw apple cider vinegar

this helps draw the minerals from the bones
Instructions
OPTIONAL: Brown meat in a roasting tray in the oven for 1 hour at 175 degrees – this releases the juices

Add your bones with any juice, veg and vinegar to the slow cooker or crock pot. Fill pot with water so that bones are covered and simmer for 24 hours.

When Broth is cooked, strain it.

DO NOT feed hard cooked bones to your dog. If any bones are still hard you can strip the bones of any meat and keep the meat and veg for a meal. Chicken bones will usually be soft enough to eat, but use care.
Other ideas
Many use bone broth to aid joint health, which is great in senior dogs, but any dog in general. We also recommend 4cyte gel as Australia's best joint supplement.